CYANOACRILATE ADHESIVE FX93
Cyanoacrylate Adhesive FX93 for GENERAL PURPOSE, low viscosity, has a fast drying, ideal for differente kinds of substrates such as Wood, Metal, Porcelain, MDF, Rubber, Plastics, Edge Bandings, Acrylic, Cork, EVA, Cloth among others. Ideal for quick repairs in assembling furniture, wooden artifacts and othes.
20g- CODE: AD
50g- CODE: AD
100g- CODE: AD
CYANOACRYLATE ADHESIVE GEL
Cyanoacrylate Adhesive Gel is ideal for applications where need high viscosity: Glass, Mirror, Wood Surfaces, Porous Substrates, MDF, Raw MDF among others.
Drying time slower in compare with another ones.

Available in bottles of 20g, 50g and 100g.
20g- CODE: ADGEL

50g- CODE: ADGEL
CYANOACRILATE ADHESIVE 631
Cyanoacrylate adhesive with quick-drying, ideal for bonding applications such as: Leather, Rubber, Plastic, Fabric, Cork, EVA and non-porous materials.
Multi application product.

Available in packs of 20g, 50g and 100g.
20g - CODE: AD

50g - CODE: AD

100g - CODE: AD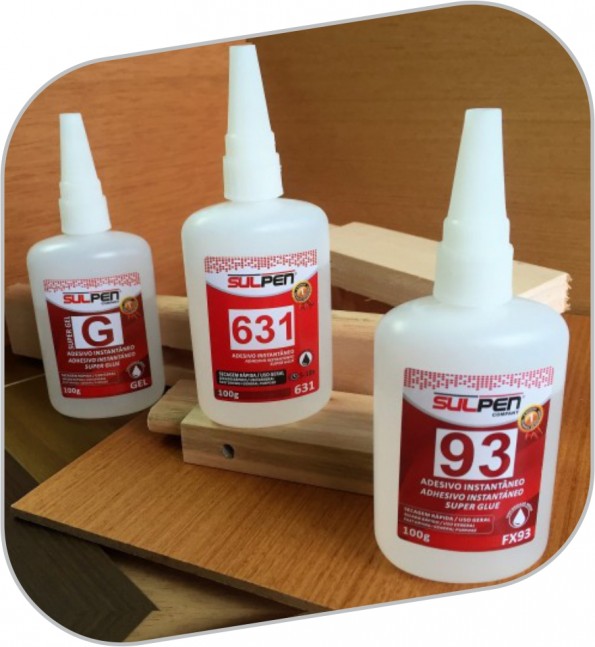 MDF KIT
The MDF SULPEN KIT is the best in the market for use in the furniture industry, artisans, carpenters and professionals who require strength and speed in the collages.
This KIT is composed of a SULPEN Gel Glue and a LOW ODOR SULPEN Activator, so the glue becomes extremely strong and fast, with a drying time of 3 to 5 seconds. The product is ideal for various substrates such as: MDF, MDF Crude and Raw Wood.
You can use it in the presence of children and the elderly. Product with Low Odor brings greater ease during the application.
Code: KITMDF
ACTIVATOR
Activator is a product to accelerate the cure of super glues (CA).
In addition to accelerating drying, it makes the bonding stronger.
Now with LOW ODOR.
Product developed to MDF top, raw MDF and Hardwood.
Available in 190mL spray.
190mL - CODE: ATIVADOR
The SULPEN COMPANY is committed to its customers, employees, suppliers and with the environment. Bfollows rigorous quality tests on raw materials used in its production process to ensure the excellence of its products to its customers.
Located in one of the largest furniture poles in Brazil, near the pole of Bento Gonçalves-RS, allows the approach to the main clients of the furniture industry in Latin America.
SULPEN is a market leader in products for finishing and touch up for furniture's industries in South America.
With a wide range of products, SULPEN operates in markets: Furniture, Homecenters, Supermarkets, Distributors, Crafts Services, Construction, Metal-Mechanical, Automotiv, Stationery e and Textile.
Every team Sulpen works diligently to anticipate the needs of our customers; we value our team to bring the brand to the consumer SULPEN security, reliability and high standards.
This is the way Sulpen to work, here quality walks always beside the good price!
Street Professor Jeronimo Ferreira Porto, 601
Bela Vista District - ZIP Code 95072-210- Caxias do Sul - RS - Brazil